The Early Ayn Rand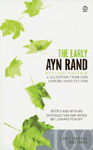 Before Ayn Rand was the famous, bestselling author of The Fountainhead, she was a 21-year-old immigrant, barely able to speak English, who dreamed of becoming a great American writer. Between 1926, when she arrived in America, and 1938, when she began work on The Fountainhead, she wrote a variety of movie scenarios, plays, and short stories. These writings, though they lack the full literary skill of her later works, still exhibit her passion for life, her talent for storytelling, and her philosophic insight.
The Early Ayn Rand is an anthology of these early works. It includes "Think Twice": a murder mystery that keeps the reader guessing through the end; "Red Pawn": Ayn Rand's first commercial sale, a synopsis of a movie original about the evil of Soviet Russia, whose plot is similar to that of We the Living; and "Good Copy": a light-hearted story of a newspaperman who will do anything to get a front-page story.
Also included in the book are memorable passages cut from We The Living and The Fountainhead—passages that she ultimately deemed unnecessary to or inconsistent with the plot, theme and characterization of the novels.
These early works are great values in two basic respects: they (along with illuminating introductions by Leonard Peikoff) give great insight into Ayn Rand's astonishing literary development—and they provide significant artistic enjoyment in their own right.
Additional Resources: